Get Business Reviews Using QR Codes – Free & Easy
Get Business Reviews Using QR Codes – Free & Easy
---
---
Online business reviews are a critical component of building your online reputation.  Nearly everybody reads them and makes business and personal decisions based on them.  Not having an online business reputation is no longer an option to be credible in today's online marketplace.  How do you build credible reviews quickly on Google, Yelp, Facebook, Trip Advisor and dozens of other review sites without it taking up all your time?
Here at Arrivala, we're all about review automation.  Whether it's our complete review automation suite, Google review handout generator, or as featured in this article, QR codes that can be easily printed and distributed.
Most of us are familiar with QR codes, they allow your customers to quickly scan a code with their phone instead of having to type in manual, long website addresses.  Couple that with a review collection process that features negative review filtering, charitable incentives, review distribution & more and you have the perfect recipe for massive review building.  Sound too good to be true?  It's not, and your business can start implementing it instantly.
In this article we're going to look at:
How to generate a free QR code instantly using our website
How to sign-up for a free (or upgrade to paid) Arrivala account that has QR code review collection built-in
How you can use QR codes in business practice to maximize reviews
How To Generate A Free QR Code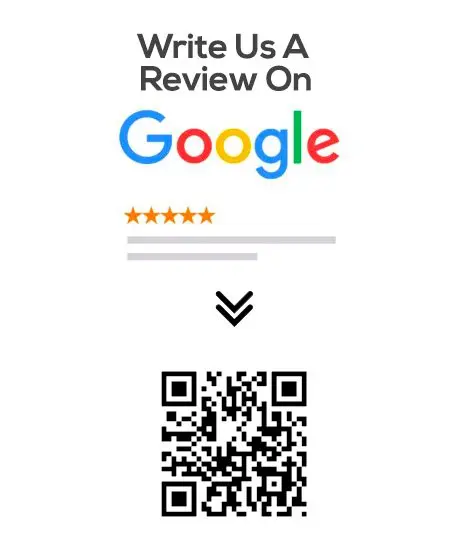 You may already have a review collection process set up/configured and all you came here for was a quick way to create a free QR code for your review URL.  If that's your situation, congrats on already having it all figured out!  Head over to our free QR code generator page and create your QR code instantly.  Our QR code generator allows you to enter any URL into the input box and instantly have a QR code generated.  That QR code can be downloaded to your computer and can be printed on marketing material, stickers, and more.  It's free to use as many times as you need to.
Use Arrivala's Free QR Code & Review System
Since you're here, you may be wondering what this website (Arrivala) is.  Arrivala is a complete review collection platform that automates the entire process.  Arrivala typically works by sending out review requests to your past customers by email or text message and prompting them through a review process.  Arrivala offers several different review flows that you can send your customers through that maximizes the review conversion process.  Arrivala also includes advanced tools such as:
Negative Review Filtering – Help prevent negative reviews from becoming public
Charitable Incentives – Incentivize your customers to leave a review by offering to donate to charities
Review Distribution – Help a single review get distributed to multiple review platforms such as Google, Facebook, Yelp, and dozens more
API Integrations – Connect your review collection to your CRM or point of sale or online platform with Zapier
Automatic Follow-Ups – Automatically follow up with your customers if they don't review you from the first request notification
And much more! See all features
When you sign-up for a free or paid Arrivala plan, we automatically generate a QR code for you that works with your review link.  This QR code is found in your dashboard after signing up. Ready to get started with Arrivala?  Sign-up today!
Using QR Codes To Collect Online Reviews
At this point, you've created your QR code either through our free QR code generator to collect reviews or by signing up for our Arrivala review collection platform.  We're ready to get to work marketing that QR code and bringing in the reviews!  What are some ways you can utilize your new QR code to bring in reviews?  Let's go through some ideas:
If you operate out of some kind of physical storefront where you see your customers in person, the best method to collecting reviews is often a big poster or sticker placed near the exit after they've completed their transaction.  In a large typeface, use a heading such as 'Had a 5-Star Experience? Review Us'.  Under that heading, you'll put in your new QR code that was generated.  You'll probably want to add some instructional text such as, "Use your phone's camera to scan our QR code and be taken to our review URL".
Stickers on merchandise – Are you a company that ships products to customers?  If so, let's add your QR code directly to the merchandise tags or a rack card that gets placed in each box.  On these tags or rack cards, we'll use similar verbiage to what was recommended above asking for a review.  Under it, your QR code will be placed for easy scanning.
Email signatures – In some situations, it may be easier to place a text link in an email signature to save space but there's nothing like a QR code to really grab attention.  If you do decide to place a QR code in your email signature, make sure the QR code is a clickable link that also takes them to the review URL.
Other marketing material – Anything print that leaves your hands should include a review QR code.  This could include flyers, rack cards, postcards, business cards, invitations to events, etc..  Getting reviews should be a top priority for growing your online business reputation and therefore it deserves real estate on all print marketing.
Wrapping Up Using QR Codes To Get Online Reviews
QR codes are a great way to make it easier for your customers to leave online reviews.  It eliminates the need to type in complicated URLs or follow complicated steps.  From what we've seen, customers want to write you reviews and help your business grow after having a great experience.  However, many are turned off by what can seem like multiple roadblocks in completing the review process.  By reducing those roadblocks to as few as possible through the use of technology, we can make it easier on your customers and in turn dramatically increase your reviews.
If you have any questions about using QR codes to collect reviews, let us know by completing our contact form.